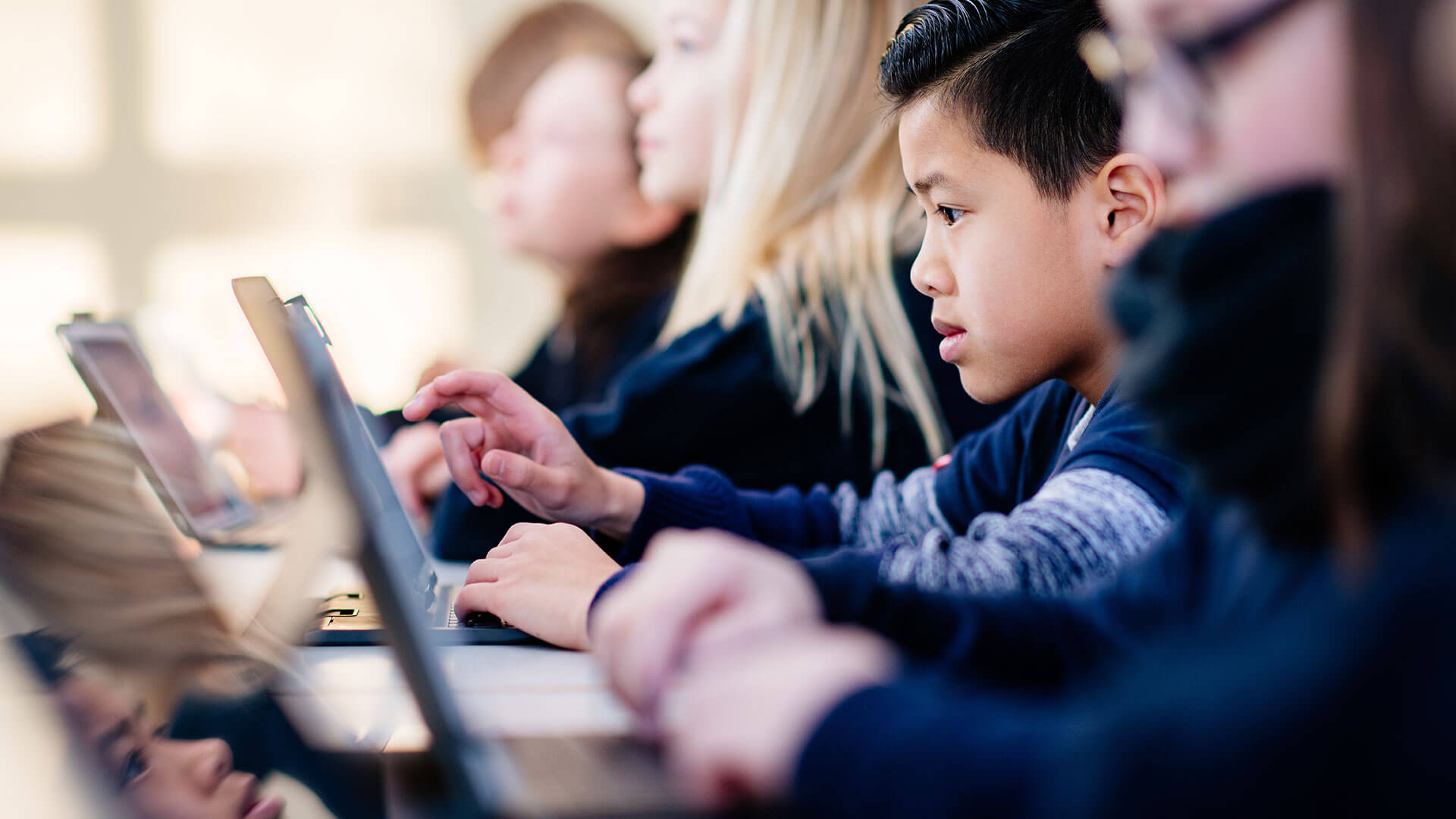 The road to your Abitur
A modern grammar school with traditional values
Klosterschule Roßleben is an independent grammar school equipped with modern teaching resources and a beautiful large campus, providing a high quality education and numerous opportunities for recreation and extra-curricular activities. Alongside this, we place equally as much emphasis on the development of social skills and values. Approximately 400 students in years 5 to 12 are taught mathematics, science, and modern foreign languages. With class sizes on average of around 20 students, we guarantee tailored individual learning support and a teaching structure adapted to varying levels of ability.
---
DAILY ROUTINE
GOOD MORNING, HAVE A NICE DAY!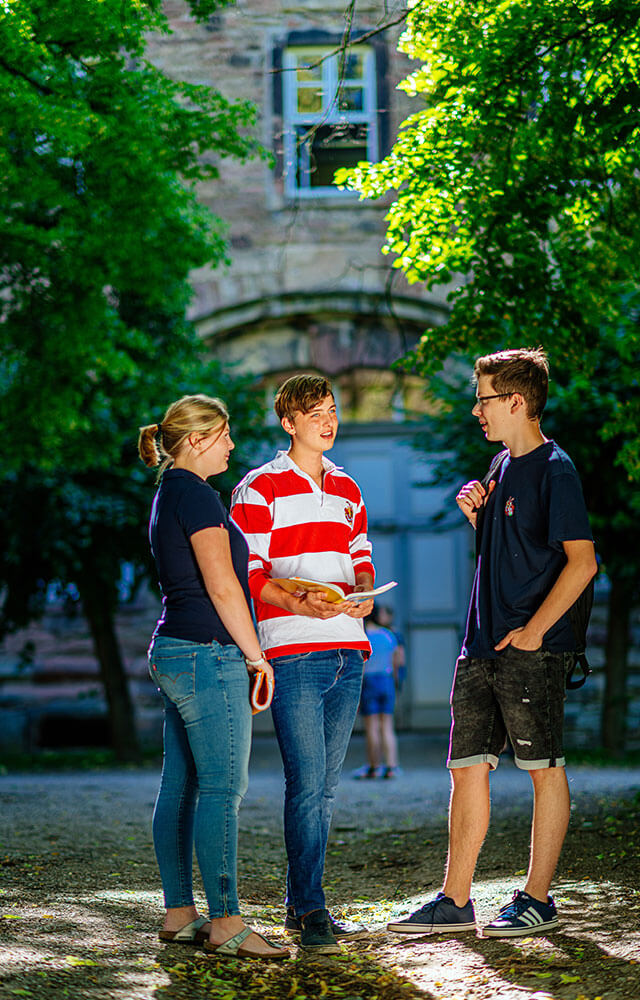 ---
THE PATH TO THE 'ABITUR' EXAM
EVERYTHING YOU NEED FOR THE EXAM
Here at Roßleben, we begin teaching both a first and second foreign language from year 5. Alongside English as our first foreign language, we offer French, Latin, or Russian as a second. In year 9, students will choose to specialise further in either Spanish as a third foreign language, a maths or science related subject, or social studies. The 'Abitur' exam is then taken in year 12 in accordance with the guidelines and regulations of the state of Thüringen.
---
LANGUAGES
HALLO, HOLA ET BONJOUR!
Foreign language skills serve as an important basis for many pathways into both higher education and training placements. Because of this we give our students the chance to learn many different foreign languages: English, Spanish, French, Russian and Latin. Furthermore, in years 9 and 10 the students enrol in a bilingual teaching programme in selected natural and social science subjects. Our upper school students can also work towards both their Cambridge First Certificate (B2) and also the Certificate in Advanced English (C1), which are offered as an after-school club. Since Roßleben is a member of the international school network Round Square, there are also exchange opportunities with over 200 schools worldwide. Through this we can help educate those students entrusted to us to become truly global citizens. The boarding school is also a very appropriate choice for children and young people who wish to further cultivate and deepen their foreign language skills which they may have acquired through a stay abroad. At Roßleben we regularly welcome young people returning from a period spent abroad in England, Ireland or the USA. For our international students we also offer German as a Second Language.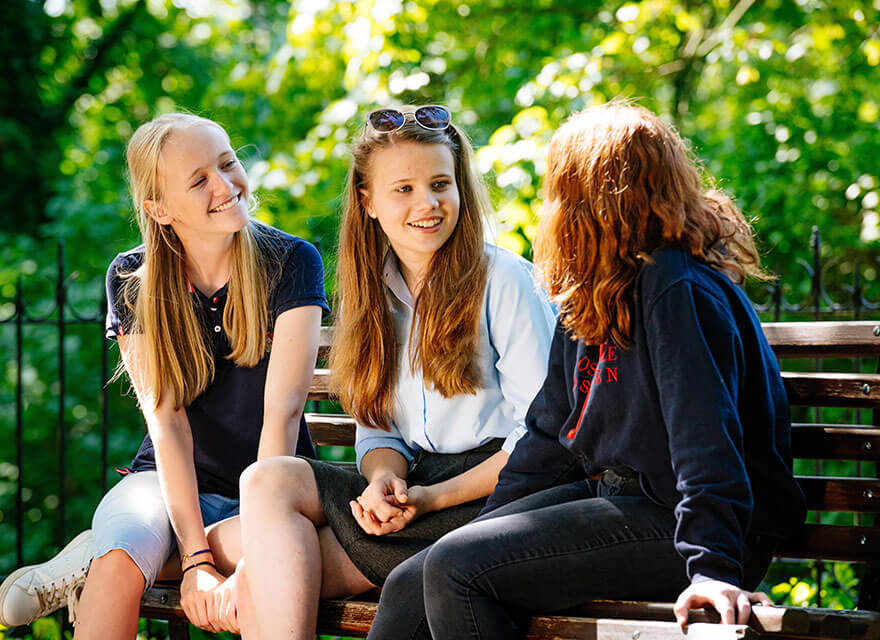 ---
A DIGITAL SCHOOL
WRITING ASSIGNMENTS WITH A TABLET
Thanks to our fibre optic broadband connection, both the school and the boarding house have access to a fast internet connection. Our first-rate on-site server facilities as well as the recent expansion of our broadband network simplify the exchange of the large amounts of data shared between the students and their teachers. Thanks to advanced training of our teaching staff on the subject of distance learning and digitalisation, home-schooling (when required) runs smoothly. The digital learning platform provided by Thüringen's Ministry of Education is an essential component of the school day. With the help of integrated feedback and collaborative tools, as well as our data secure video conferencing software (Big Blue Button), we are well equipped to deliver lessons in digital form and reach students with ease. Furthermore, any questions the students have can be answered directly and without delay via the in-built chat system.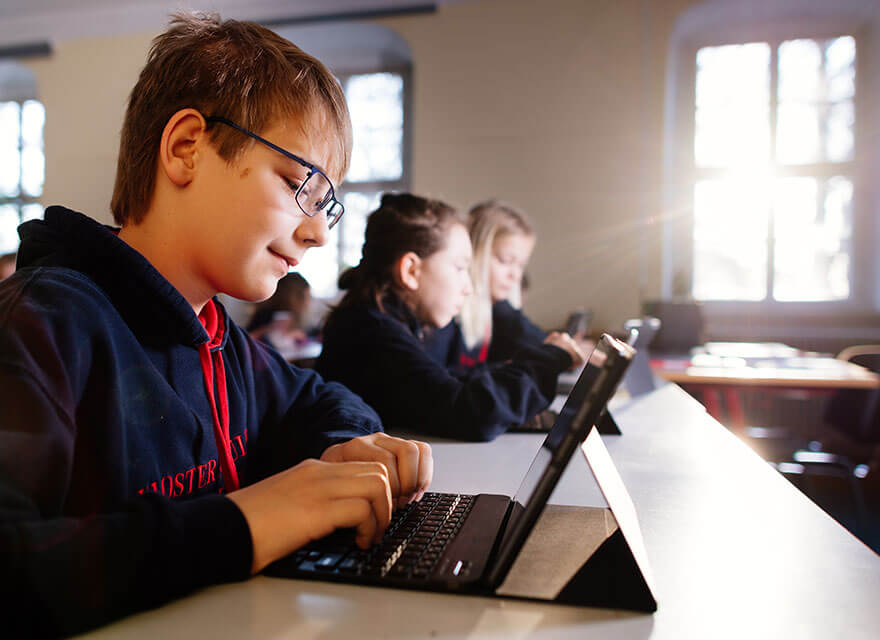 ---
CAREER GUIDANCE
THINKING ABOUT THE FUTURE – WHILST STILL AT SCHOOL
Here at Klosterschule Roßleben it is our goal to best prepare our students for the demands of education and the world of work beyond the 'Abitur' exam. Through our 'Gilden', our extensive hobbies programme, our pupils learn from an early age what organisation and management mean in everyday life. Voluntary and charity work are promoted and supported, with work placements being a permanent component of year 9. Towards the end of year 10, our boarding students take part in a detailed interest and aptitude test. Our careers counsellor talks through the results in detail with each student and is available to advise, motivate and support the students in final years 11 and 12. We also take pride in the close relationships we share with many regional and national businesses, allowing us to support pupils in their choice of career in as practical a way as possible. Assessment centre training, trainee etiquette, cv writing, recruitment test practice and simulated job interviews all function as an important part of the education of our upper school students. Thanks to our alumni, our students have an extensive network of people available to help and support in their search for internships or apprenticeships worldwide. We also regularly host careers fairs here on our school campus. Our close collaboration with renowned universities acts as a further strength we have here at Roßleben.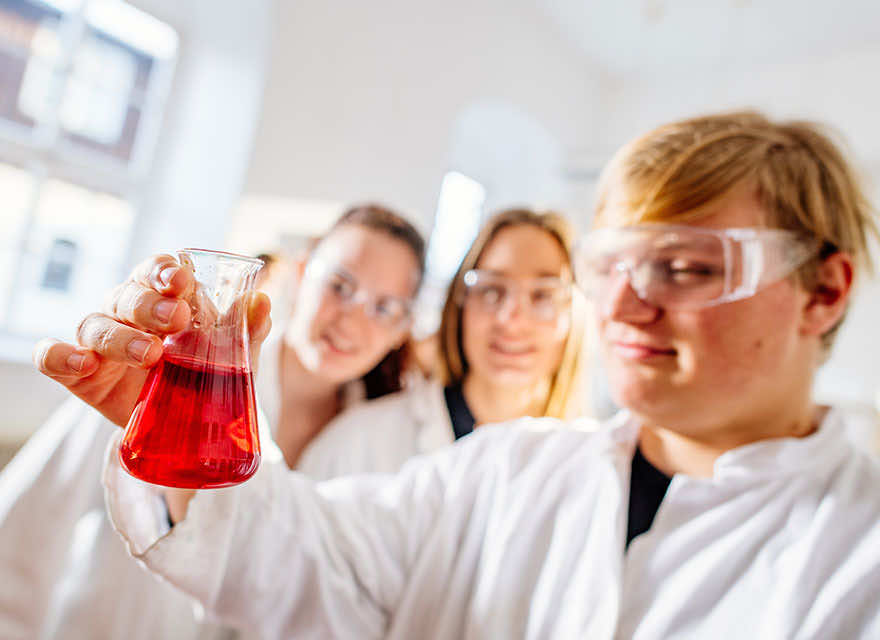 As soon as I heard from the alumni association about the chance to support current pupils digitally with sample interview practice, I was delighted to offer my services. We did not have this opportunity ourselves of course back in the day – I applaud this superb, innovative idea! Well done!
Tobias Rommel (Abitur student – Class of 2009) | Today employed by Thales
THESE COMPANIES HAVE ADVISED OUR STUDENTS