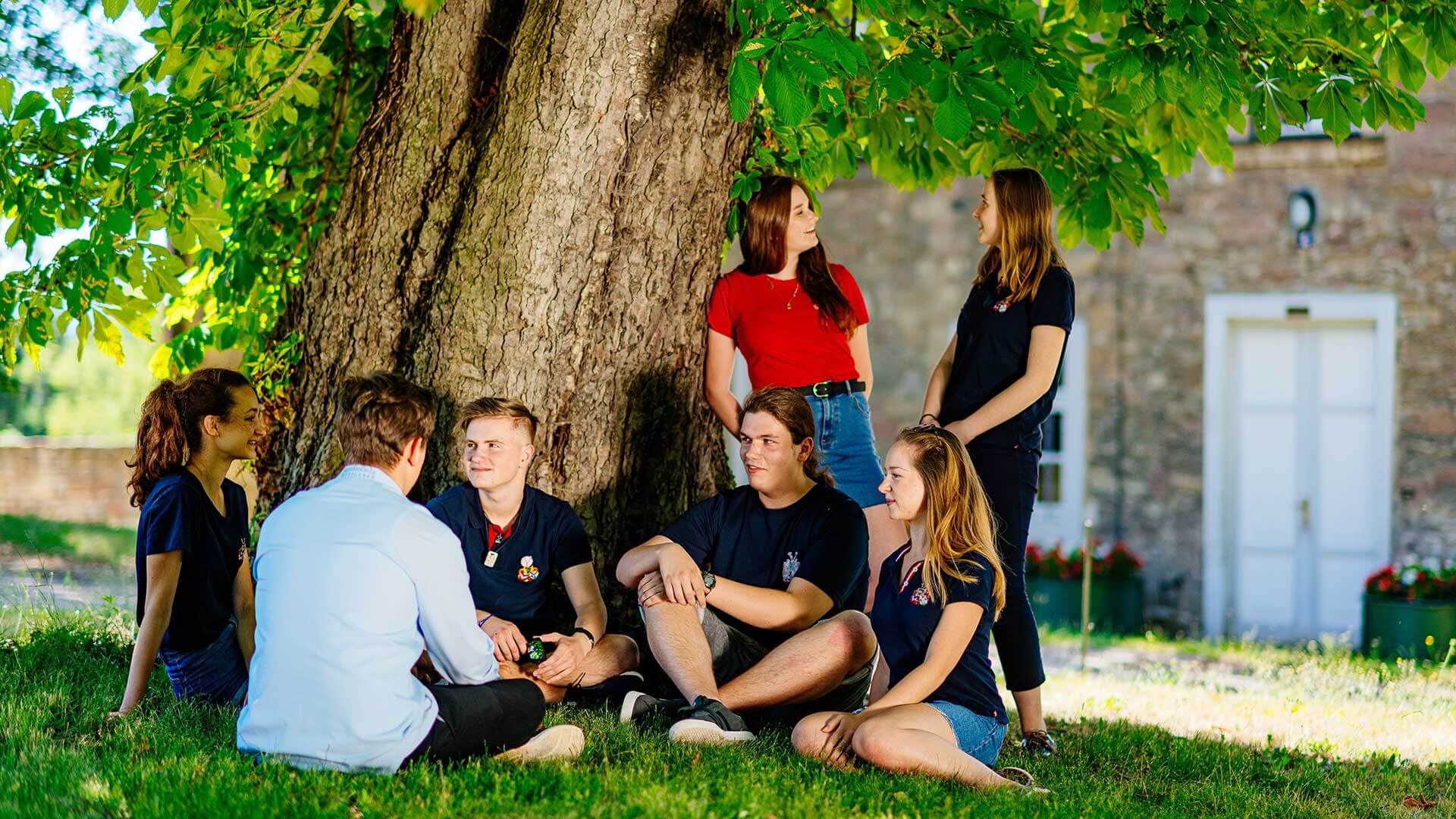 Like one big family
Living within a community – and living for the community
…are defining experiences for all young people. Promoting individuality, developing independence and bearing responsibility – these are the three guiding principles of our educational work with our pupils. It is our key priority to make sure we pay special attention to promoting the individual talents of our students, but we equally support them in both overcoming any difficulties they have in school and helping them solve any personal issues they may currently be facing. Our aim is to bestow our students with key life values, making sure all our young people leave Klosterschule Roßleben better prepared for adulthood. Being separated from the family can at first be a rather unsettling thought – and not only for the children. Parents often also have many questions: Is my child well cared for? Do they have somebody to talk to if they have a problem? What happens if my child is ever ill? The children also often themselves wonder if they will quickly make friends and fit into this new community. We will happily answer all your questions in a personal conversation, either during a visit here, by phone or by video-conference. Arguably, no one can put themselves in the individual child's shoes better than the students who themselves were also once confronted with the same questions. For this reason, we have interviewed a few of our boarders and asked them why they decided to come to Roßleben.
Lorenz explains in this interview why he came to Roßleben
Pupil interview at the beginning of the 2018|19 school year.
Juliane joined us after a year at a British boarding school.
Juliane went to a British boarding school and then switched to Roßleben. In this Interview she explains why she changed schools.
Diana came for a year from Tenerife to Roßleben.
Diana joined us from Tenerife for a year. In this interview she explains what she particularly liked about Roßleben.
At the end of her year in Roßleben Diana describes her experiences.
Diana spent a year with us in Roßleben; here she tells us all about it!
---
CAMPUS
EIGHT HECTARES OF PARKLAND IN WHICH TO RELAX AND LEARN
---
LIVING AT THE SCHOOL
LIVING AND SLEEPING ON THE SITE OF AN OLD MONASTERY
The boarders' rooms are located in the main building of the monastery and for the particularly well-behaved year 12s, in our second boarding house called 'Aqua'. Our boarders live together in tastefully furnished rooms and dormitories, usually separated by year group, and are thus quickly integrated into their respective tutor group. The boarding rooms are generally configured as either single or double rooms, depending on age and occupancy, and for the younger pupils there are communal washrooms. In 'Aqua' the students have a single room with their own bathroom. Every corridor also has its own communal area furnished with a sofa, table and TV, where the students spend their down time playing games and chatting with each other. They are able to decorate these rooms as a way to make their own living space as unique and personalised as possible. We place great importance on making sure the students have a home-like atmosphere in their rooms as well, so it is perfectly fine for the children to bring small items such as a rug, mirror, comfy chair, pictures or a lamp to make their room truly their own, giving it that 'home from home' feel.
---
FOOD
BREAKFAST, LUNCH AND DINNER – ALL FRESHLY COOKED ON SITE.
Our dedicated kitchen team prepare diverse, wholesome and healthy food on a daily basis. Whether vegetarian, vegan, or having other specific dietary needs, every wish is taken into consideration. At time of admission, we will ask in detail whether there are any dietary intolerances, allergies, or preferences that we should know about – we then tailor our menu to suit those needs. During the week, the children always have a 'first breakfast' before school starts and then after two lessons a 'second breakfast' at 9:30am. At all mealtimes there is a substantial buffet with a varied selection of breads and hams, always served with fruit, vegetables and a large selection of salad. Our hot meal of the day is always at lunchtime, and it is ever changing, with desert and/or fruit as well. After school at 3pm there is 'Vesper', or afternoon tea, for all the children. Here there is a delicious variety of cake and fruit as well as of course a great selection of hot drinks, including coffee and various teas. At 6:15pm everyone sits together and has a lovely evening meal; this is an excellent way to end the school day. At dinner the children have time to sit and relax at their table with their tutor, talk personally with the 'Internatsleiter' (the Head of the boarding school) and share the goings on of their day with other students. It is important for us to get the children thinking about their diet and nutrition, so we have a 'Food & Future' prefect whose job is to analyse how our nutrition can be improved and how we as a school can reduce our environmental impact, for example by reducing our food packaging waste. In summer we harvest berries to make jam and the school greenhouse gives us fresh tomatoes, lettuce and herbs. A particular highlight are the twice monthly Sunday brunches which run from 10am to 12pm. On many occasions during the year we also organise 'Festessen', a formal meal with specially laid tables and a set menu of multiple courses. For the 'Festessen' our boarders dress up in suits and dresses and take turns in giving speeches, increasing their confidence in public speaking.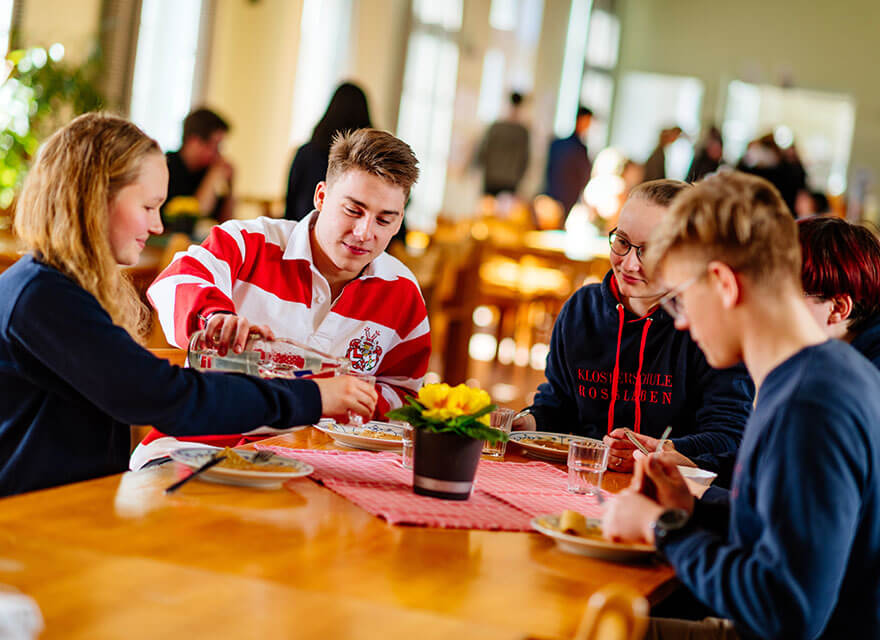 MENU
---
SUPPORT
THERE IS ALWAYS SOMEONE THERE READY TO LISTEN
PREFECTS – SETTING AN EXAMPLE AND TAKING RESPONSIBILITY
From year 10, students can take on the responsibility of being a prefect for the younger year groups. Every student up to grade 9 is assigned a mentor from the upper school who helps to settle disputes, mediate and support the younger students. Older students also offer regular tutoring, help organise the weekends activities and take on tasks in certain 'Gilden' (hobbies). In addition to the tutors, who are the first point of contact for the students and their parents, prefects help shape the atmosphere of the boarding school in their function as role models.
OUR SMV STUDENT COUNCIL – PUPILS HAVE A SAY
Our elected student council (Schülermitverwaltung – SMV), work closely with both school and boarding school management and are a key contributor to the success of boarding school life here at Roßleben. The SMV watch over the day-to-day goings on of the boarding school, making sure everyone lives together in as much harmony as possible. They help us maintain and develop our traditions, characterised by fairness, openness, mutual respect, and dynamic cooperation between both young and old. 'Prima Omnium' und 'Primus Omnium', similar in status to Head Girl and Head Boy are students elected annually in year 11, with every boarder having an equal vote. Through coordinating the roles of each prefect, supporting the Internatsleiter (Head of the boarding school), advising in matters of discipline, looking after guests, and taking part in regular meetings, the student council members are committed to the boarding school and serve as role models for the rest of the students. They are also assisted by two 'Inspektoren', similar in role to Deputy Head Boy and Girl.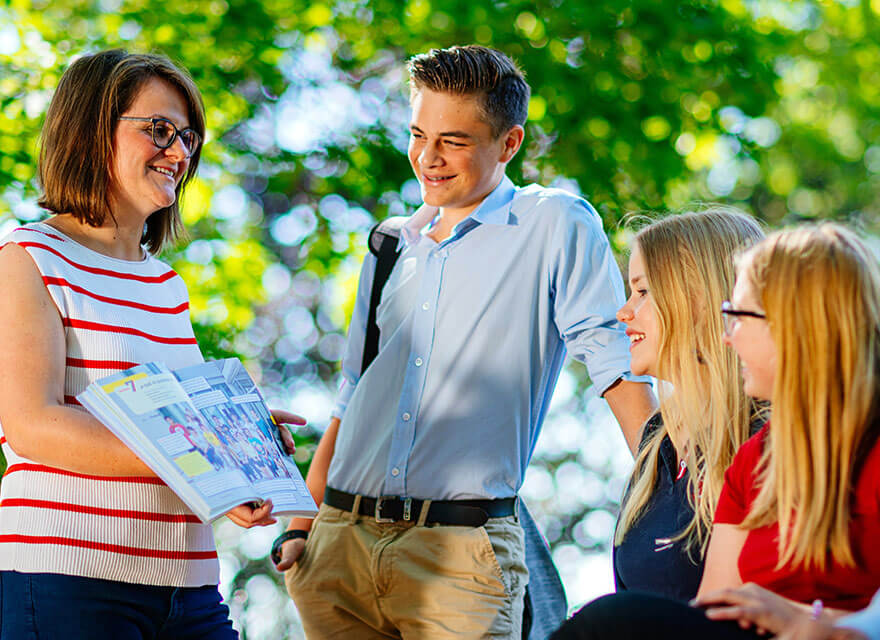 "TALENTS REALLY DO NOT VARY THAT MUCH FROM PERSON TO PERSON – THE REAL DIFFERENCES LIE IN A PERSON'S CHARACTER AND LEVEL OF APPLICATION"
Theodor Fontane
---
DAILY ROUTINE
EAT, STUDY, CHILL, REPEAT
After waking up at 6:30am, the students go to first breakfast which gives them a bit of time to get in the zone for the school day and hear any new updates from the 'Internatsleiter' (the Head of the boarding school). At 7:50am lessons start and then at first break the boarders have the chance to have a second breakfast on top. Lunch is after the sixth lesson and, depending on year group, the children have further lessons until 3pm. For our younger children, they have a large variety of 'Gilden' (hobbies) to take part in, or they can use their free time to take advantage of the expansive grounds to play sport, games, or simply relax.
After 'Vesper' (afternoon tea), there is 'Silentium', our prep/homework time, from 4pm-6pm. Here the boarders complete their homework and the older pupils study for exams, all with the help of our caring and supportive tutor team. Through close collaboration with the teaching staff, our tutors are always aware of the current academic performance of their students, so they can guide them in the right direction with their studies. When distance learning is needed, our boarders will have no problem working from their rooms or at home, thanks to our digital expertise and well-developed online network. During the periods of lockdown in 2020 1nd 2021 the intensive support of our tutors and fixed daily structure proved to be very successful in maintaining a very high sense of 'normal' schooling. More than 96 per cent of our boarders took up the offer to stay at the school during lockdown, even if traditional face-to-face lessons were not able to take place. At the forefront of our minds was our conviction that no student should suffer because of distance learning, and because of this attitude, most students were able to maintain or even improve their grades during this challenging period. Every day at 6:15pm there is a communal dinner together with the 'Internatsleiter' and tutors. After dinner pupils have the opportunity to participate in various 'Gilden' (hobbies) and other activities. 'Trakt' and bedtimes vary depending on age and until the end of year 9 all pupils must give their phone, tablet and computer into the tutors before bed. Once a week, each tutor hosts a 'Gruppenabend' (group evening) for their tutor group. The children are encouraged to help create an interesting activity together with their tutors that will bring everyone closer together as a group. Whether it is playing games, a trip to the cinema, a campfire evening or simply eating pizza together, no one gets bored or is left out. However, despite
Wake up, get up and breakfast in our cafeteria
Start of lessons, lunch and the end of lessons
Hobbies, free time, tea break and 'prep' (supervised homework time)
Supper, free time including sport, games and other hobbies
In-house and bed times (according to year group)
---
WEEKENDS
FREE TIME, RELAXATION, VARIETY AND ADVENTURE
Apr
Anreise aus den Osterferien ab 14:00 Uhr
For the majority of our pupils, the boarding school acts as their second home for a number of years. Therefore, it is particularly important for us to provide the students with a variety of exciting activities during their free time and weekends. Through these activities we find that many strong and valuable friendships are formed. Our spacious grounds give the children lots of room to stretch their legs and play sport, or simply just sunbathe on the lawn or chill under one of the many trees we have here. The astroturf, rugby field, and tennis and basketball courts are also all available for use and are constantly enjoyed by the students. Due to its very central location, Roßleben offers countless opportunities to explore many beautiful surrounding cities like Erfurt, Weimar, Jena and Leipzig. Regular trips are offered to these towns and cities, as well as to the beautiful surrounding countryside. Theatre or museum visits are also often part of the weekend plan and help to engage the students in the areas past and cultural significance. We are also extremely lucky to have Kyffhäuserkreis and the Saale-Unstrut Valley near us, which offer great opportunities for excursions into the countryside. This helps us to remember that whilst technology is amazing, it should not be at the expense of the beautiful world around us! We have 'Pflichtwochenenden' where all students are expected to stay at the school and partake in the activities our tutors and prefects have planned. One such weekend a month has a theme – such as 'Getting to know you', 'Sport: 'Culture' or 'Skiing'. Another weekend a month has a broad mix of activities, including visits to museums or theatres, hiking trips, sport activities, baking, and presentations from key speakers who we invite to the school. There are also of course 'Heimreisewochenenden', where all but our international students go home to see family and friends, and 'Heimreisemöglichkeit' where students can choose to either stay at school or travel home. These are all published on the school website. Those who remain on these weekends will not miss out though, as we still plan interesting and involving activities to do with the students.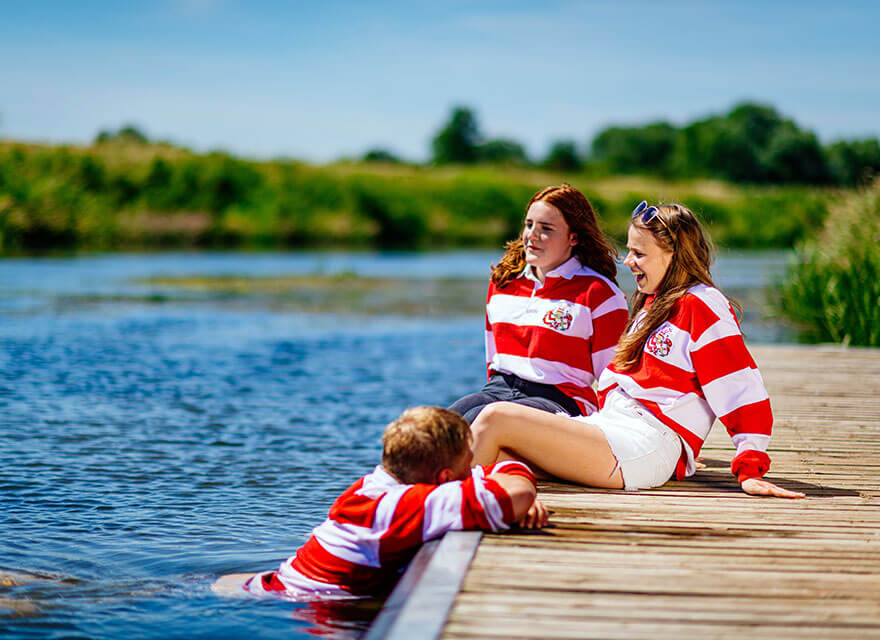 ---
FEES
The boarding fee covers the costs of accommodation, meals and hobbies in addition to the pastoral care provided.
BOARDING SCHOOL PUPILS IN CLASSES 5–10

(INCLUDING TUITION)

PER YEAR

2.250€

27.000€

BOARDING SCHOOL PUPILS IN CLASSES 11–12

(INCLUDING TUITION)

PER YEAR

2.350€

28.200€